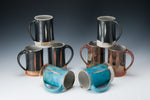 Gallery Night Ithaca is back!
June 5 2020
Handwork potter Renata Wadsworth gives us a peek into her kiln room! We're getting ready.... to go live tomorrow evening for Gallery Night Ithaca is back! Virtually! 🎉
Tune in tomorrow for Ithaca's first Virtual Gallery Night
Renata Wadsworth will be streaming an in-studio Pottery Throwing Demonstration, from 6:00pm to 6:45pm
from the Renata Wadsworth Pottery Facebook Page - Follow her page for notifications and the Gallery Night event page to see the full lineup of events. See you there!