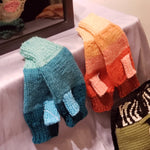 Looking for something warm and snuggly?
Our BIPOC artist of the month, Saundra Goodman specializes in beautiful knitwear to enjoy all season long. Pick up a pair of gloves or a pretty scarf to adorn you or your loved ones. Saundra also creates stunning fiber art utilizing fine crochet work. Be sure to visit our shop to see all of Saundra's work on display and for sale for the month of December!
About the Artist:
Born in 1948 in New York City, Saundra Elizabeth Goodman is a
former Woman Marine, having served during the Vietnam War. She graduated from the University of North Florida in 1996, where she received a degree in Psychology. Goodman also took drawing and painting classes at the School of Visual Art in New York City.
As a child, Goodman always had a fascination of sewing, knitting and crocheting. The idea of using crochet as a medium to express artistic feelings was a natural evolution, after years of honing her skills and experimenting with sculptural form, as well as freestyle and pictorials.
​Goodman currently resides in Ithaca, New York.