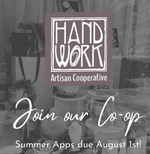 Membership Application deadline!
Membership Application deadline for this summer is August 1st!
Handwork is Ithaca's Artisan Co-op. Our artist-staffed shop is nestled in Ithaca's downtown commons. We're proud to spread the message that buying handmade and shopping small supports real people, families and keeps our community strong.
We've been in the business of selling local art and handcrafts for over 40 years. We're excited to also have introduced a new online web store to sell our artist's wares!
Our co-op's number one goal is the success of local artists & our skilled team of retail and marketing employees are ready to help you grow in your craft and career. Join our creative family of kindred spirits and talented makers!