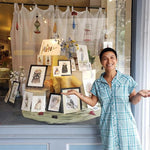 New Window up at Handwork! 💐💐
Featuring the charming illustrations of Cruz Newman @cruz.illustrations
Cruz has been a Handwork member since 2022. We're thrilled to have her beautiful work in our front room window for the month of August. Be sure to also check out her exhibition "Gifts of Joy" at @thegalleryithaca for First Friday Gallery Night.
You can find a large selection of Cruz's prints, cards, and framed work at Handwork Co-op, year around!
Cruz was born and raised in Mérida, a beautiful valley surrounded by gigantic mountains in the Venezuelan Andes. She got a degree in Industrial design and moved to London to learn English and experience the world from a different perspective.
Love and life brought Cruz to the US in 2015. She is located in the beautiful Finger Lakes area where she finds so much joy and inspiration for her art.
She has enjoyed creating using different mediums. Her current favorite is watercolor, which she uses for her illustrations with a whimsical style.