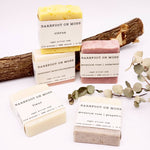 Barefoot On Moss Vegan Soap bars by Artisan @lise.bouvet. $8 each, 3 for $22 or 4 for $29.
Echoing her eco-friendly approach to jewelry, Lise's soaps are handcrafted "True Soaps", which means they're better for the environment and for you! No palm oils, synthetic fragrance or parabens here
Just luxurious coconut oil, shea butter, cocoa butter and olive oil.
Available in...
• Geranium Rose | Cedarwood
• Geranium Rose | Grapefruit
• Lavender | Mint | Eucalyptus
• Citrus
• Unscented (Gentle, perfect for babies!)
This item is currently available in-store only. Stop by soon
We're now open Mon-Sat 10am to 6pm, Sun 11am to 5pm.
.
.
.