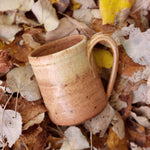 Life imitating art... or art imitating life?
We love the earthy texture and natural hues of Turtle Island Pottery.
Mugs make wonderful gifts, checking both boxes of useful
and beautiful
Come find your new favorite mug at Handwork co-op and get a head start on gift shopping. The holidays will be here before you know it!