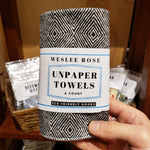 Unpaper towels and snack bags from Weslee Rose. We've also restocked their popular beeswax wraps, soap, and reusable sponges. Eco-friendly products we
Weslee Rose is an AAPI woman-owned company dedicated to providing eco-friendly solutions for life's everyday needs. Weslee Rose is focused on helping customers move away from single-use disposable and plastic items and move to a greener lifestyle with a range of kitchen items, organic skincare,
concentrated cleaners and more.
Weslee Rose products make great additions to our handmade salad bowls, cutting boards and wooden kitchen utensils. Stop by Handwork to see the full collection.