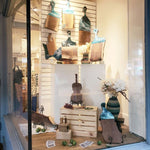 New Windows are up at Handwork Co-op 🖼️
We're so excited to have @dancingowlwoodworking as our Featured BIPOC Artist for the month of August! These boards feature wonderful wood grain and resin details that remind us of the Finger Lakes. ⁠
⁠
About the Artist: Tracy Smith is a self-taught woodworker, born and raised in Arlington TX. He made the jump to upstate NY ten years ago to attend Wells College and has spent the last eight years in Ithaca where he currently lives with his
partner and their two cats. ⁠
⁠
Be sure to check out these gorgeous cutting boards on your next visit and pick up one or two to add to your kitchen repertoire or gift to a friend!