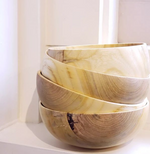 Salad bowls big and small, we've got them all! Pair it with a set of our salad spoons for a great summer gift 🌿🌻🍽
Visit us in person to explore all our handcrafted local wares from Artisans across the Finger Lakes.
Handwork is located at 102 West State Street, Downtown Ithaca.