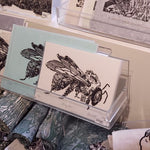 The industrious bee is a symbol of community, brightness and sustainability
pick-up a beautiful bee woodblock print by Handwork member @sunkissedandwild to decorate your space for the new year!
In the tradition of fresh beginnings, we invite you to fill your home with items that truly bring you joy, have meaning and give you a sense of belonging to your community.
We're continuing to add new items to our online shop (link in profile) and our artists are replenishing our brick and mortar store. Come visit us as we refresh things!
We're open our regular hours: Mon-Sat 10am to 6pm, Sun 11am to 7pm
.
.
.