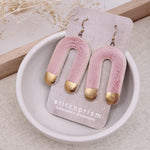 The sweetest day is right around the corner!
 Shop Handwork Artisan crafted jewelry for Valentine's Day
Our online store is brimming with beautiful one-of-a-kind pieces for your favorite people.
Tap to shop!
We're falling for these cascade gold dipped dangle earrings by @stitchprism.
StitchPrism is designed and produced by KellyAnne Mifflin in Southwest Philadelphia.
All pieces begin as wet porcelain clay, then are cut and formed into shapes, joined with high heat wire, glazed in their signature colors, and fired in the kiln to 2232 degrees. They are topped with gold or silver metallic luster and kiln fired again, then paired with sterling silver, gold-filled, or surgical steel findings.
.
.
.