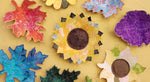 Mary Beth Larsen
A Finger Lakes native, Mary Beth Larsen began mastering fabric art at the age of four!
Among her accomplishments:
• She has taught design and fabrication in several venues including the Alfred University Quilt Symposium.
• Mary Beth work has twice been accepted for the prestigious Arts=Quilts=Arts international Quilt Exhibition at the Schweinfurth Memorial Art Center, Auburn, NY.
• ARochester Quilt Show entry "A Place for Eleanor" won The People's Choice Award and prompted nationally known quilting teacher and author, Joan Shay, to devote a full page of Mary Beth's quilt in her book "Petal Play the Traditional Way".
•Mary Beth has twice chaired the regional "Lake To Lake Quilt Show" in Rushville, NY.
Now retired, Mary Beth still enjoys sewing and has expanded her repertoire to include three-dimensional fabric bowls that look like leaves and flowers as well as using heat activating stabilizers in shaping her leaf sculptures and some of her more intricate flower bowls.
She has been making fabric greeting cards for over 25 years.  Much of her work incorporates free motion embroidery.