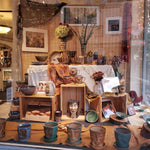 🪟✨ Our new window display is a ceramic Wonderland, featuring the enchanting creations of artisan Gina Inzinna.
Gina's work is a maximalist's dream come true, each piece a celebration of ceramic craftsmanship, including wheel-thrown and sculptural pieces, as well as glaze masking and marbled clay.
As a participating member of the Greater Ithaca Art Trail, Gina's work is a testament to the vibrant arts scene in our community.
Check out the Studio Guide Map to visit Gina's
studio in person:
https://arttrail.com/maps-studio-guide
/