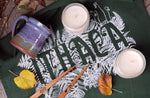 Autumn's Best-sellers are here! 🪄
These Ithaca tea towels by Planetarium Design are crafted from 100% cotton and are perfect for daily use. Plus, they make fantastic gifts, adding a touch of Ithaca charm to any kitchen.
As a textile designer specializing in silk screen printing, Planetarium founder Esther Yaloz carried her childhood fascination with wildflowers to botanical images. They have become a central motif in her textile design. She delights in details and textures,
and is passionate about printing and creating patterns. Esther loves transforming raw materials into a unique and final product. Everything is hand-printed, dyed and sewn in her workshop with great attention to detail.