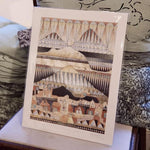 Beat the winter blues (and this super chilly weather) with warm decor
 We now carry prints by Artist Scout Dunbar! Born and raised in Ithaca NY, Scout creates mixed media landscapes, mountain ranges and abstract figures with lively repetitions, geometric shapes and earthy tones.
Scout Dunbar is a mixed media artist working primarily in drawing and printmaking. She received her BFA from Alfred University in 2011. She has exhibited nationally and internationally in venues such as Robert Blackburn Printmaking Studio, NYC (2013), Limerick Printmaking Studio in Limerick Ireland (2013), Air Gallery in Brooklyn, NY (2014) Cornell University in Ithaca, NY (2017), and Tiger Strikes Asteroid in Los Angeles, CA (2018.) In 2012 she completed a fellowship at the Ink Shop Printmaking Center in Ithaca, NY, followed by a studio internship at Dieu Donne, a contemporary paper-making studio in Brooklyn. Her work has been featured in publications in the Ithaca Times, Studio Visit Magazine, the Edinburg Press, and Create Magazine. Originally from Ithaca, NY, Dunbar currently lives and works in Tucson, Arizona.
.
.
.
.