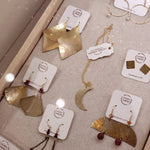 The sweetest day is right around the corner!
Our online store is brimming with beautiful one-of-a-kind pieces for your favorite people. We also offer a vast selection of artisanmade jewelry at our brick-and-mortar store.
Artisan Laurel O'Brien creates modern jewelry inspired by the beautiful details in nature. A skilled metalsmith, Laurel uses brass, sterling silver, copper, and gemstones in her work. Her latest creations feature delicately hand-sawn florals and her statement earrings are sure to captivate your Valentine.
.
.
.