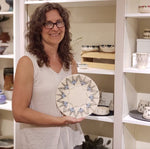 Betsy Gram's shelves are restocked and full of beautiful pottery pieces in her signature style!
Come see her collection of plates, mugs, bowls, and more in our pottery room at Handwork.
"Every spring, as wildflowers became more prevalent along roadsides and hiking trails, the new plant growth inspires new patterns to emerge in my repertoire, like the one on this plate. While this pattern is not representative of any particular plant, it reminds me of the delicacy of the
flowers of spring."
- Betsy Gram