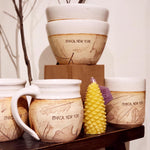 Check out one of our newest consigners -
Julia E. Dean Pottery!
To you locals out there, Julia's work may be a familiar sight since she's been selling her pots in town for years, but we're so excited to have them on OUR shelves! She's graciously given us some of her Ithaca collection in satin white glaze, helping us to hype our beloved little town
. Be sure to come into Handwork Cooperative to take a look at Julia's work and check out some of her other collections at @juliaedean or @clayschoolithaca .