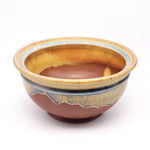 What's your favorite fall comfort food?
We can see this beautiful bowl filled with roasted veggies, casserole, pasta...Whatever your comfort is, Turtle Island Pottery will add a touch of warmth and earthiness to your kitchen table.
.
Click to Shop this golden glaze bowl in our new web store
.
Handwork Co-op is known for its beautiful assortment of locally made pottery- our customers travel to shop our selection! We have been adding new pottery and other items to the new website daily, if you can't travel or make it to the shop these days. We invite you to browse our online pottery collection, at
www.handwork.coop