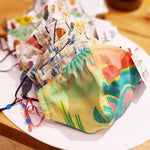 Cloth masks are always available at Handwork Cooperative, in person and online.
Sure we've all been wearing masks for over a year, but do you know all the ins and outs of how to properly wear and care for your cloth mask
? According to the Mayo Clinic, here's how:
How to wear a cloth face covering:
• it should fit snugly but comfortably against the side of the face
• be secured with ties or ear loops
• include multiple layers of fabric
• allow for breathing without restriction
How to properly remove a used mask:
Individuals should be careful not to touch their eyes, nose, or mouth when removing their cloth face covering and should perform hand hygiene immediately after removing.
Mask storage:
Do not place in pocket for later use. Carefully fold the mask so the contaminated outside is folded inward and against itself. Place in clean or new paper bag, and perform hand hygiene
Caring for your a cloth mask:
Machine wash in a garment bag on a gentle cycle or hand wash with regular laundry detergent in hot water. Tumble dry or hang dry. Wash your mask daily.
Come on down to Handwork on the Ithaca Commons and take a look at our selection of cloth masks!