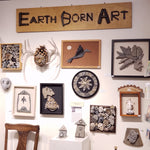 Come explore the clever creations of Earth Born Art @Handworkithaca!
This wonderful wall is full of quirky characters and impressive sculptures made from found objects and stone. Artisan Mark Tucker finds inspiration in some of the most unassuming of objects, transforming his collected pieces into a beautiful picture, an animated face, or even a gnome home, Mark's arrangements will make you look at stones in a whole new light
Mark's sculptures and arrangements are available
in-store @handworkithaca. A limited selection is also available online.