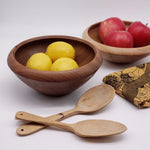 Ever wonder how wooden bowls are made?
In our latest newsletter, our artisan woodcrafters give a behind the scenes look into the process of making heirloom bowls from start to finish. Plus, expert care tips for wooden bowls to look their best and last a lifetime.
Sign-up today to get the Handwork artist newsletter!