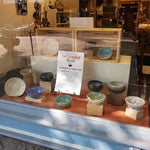 Empty Bowls will be To-Go this year!
Hey
#Ithacany
! Empty Bowls will be To-Go this year! We're displaying some of the beautiful locally made bowls you could take home home with you when you purchase dinner tickets from the Loaves & Fishes website.
https://loaves.org/
More info
"Service has traditionally been in the manner that we serve those in need. And as such, this year's Empty Bowls will be a to-go meal to ensure everyone's safety. Each week, Loaves & Fishes has been providing 1200+ to-go meals to serve our community in these challenging times. That's three times higher than our average weekly counts last year.
You'll get 2 pints of soup of your choice as well as salad, fresh bread, and a dessert, prepared by local restaurants including Gola Osteria, The Boatyard Grill, Cayuga Medical Center, Taste of Thai Express, Loaves & Fishes, Moosewood, Maxie's, Wide Awake Bakery, Cornell's Statler Hotel and others. And, we'll select a beautiful ceramic bowl for you to take home as a reminder of our quest to reduce hunger in Tompkins County. Everything will be packed and ready for pick-up on October 10!"
.
.
.