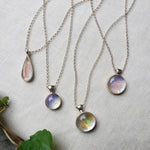 Glittering Glass necklaces by Shirley Woodcock-Kolb.
These special necklaces are made from dichroic glass, a truly remarkable material due to its captivating play of colors that shift and change depending on the angle of light. Dichroic glass creation involves multiple layers of metallic oxides deposited onto the glass. These thin layers interact with light, creating an iridescent and mesmerizing visual effect that sets dichroic glass apart as a unique and artistic medium in
jewelry and decorative art.
These magical pieces are available in-store at Handwork. We also offer shipping for those who wish to shop from afar! E-mail our friendly artist staff at HandworkOnlineShop@gmail.com