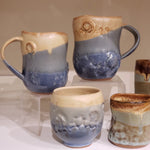 Happy happy #mugshotmonday!
At Handwork we have handmade mugs of all shapes, sizes, glazes and styles! Perfect for gifting this holiday season. Featured here: Fossil mugs by Kari Zelson-Robertson, Bunny mugs by Laura Burch and assortment of mugs by Turtle Island Pottery. Browse our beautiful pottery online at
www.handwork.coop
or visit us in person. We have a unique mug for everyone on your list!