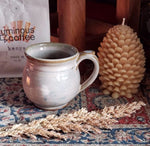 Happy #Mugshotmonday everyone
Happy
#Mugshotmonday
We hope you're enjoying this sunny day with a handmade mug and the bounty of local goods Ithaca has to offer:
Mug by Turtle Island Pottery
Dried florals from Creations by Carol
Pinecone candle from Sunbeam Candles
Luminous Coffee from our neighbors PressCafe in
Press Bay
(we highly recommend the Kenya!)
Table runner from
East Hill Antiques
.
.
What is our artist co-op up to these days? We're busy bees swapping out window displays, refreshing the store, and creating beautiful new things for our customers. Discover what's new at Handwork in person (we're open till 6pm) or find us online at
www.handwork.coop
(Link in Bio
)
.