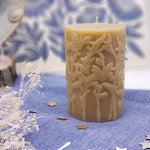 Beautiful hand poured beeswax decorative pillar candles from Handwork makers, @afewgoodbanas. We're big fans of a lovely, slow-burning natural candle. So we were very excited when A Few Good Bananas began crafting artisan candles for Handwork! Add a few around the home to brighten up your space. Especially good for clearing the air and adding a sense of coziness to your home, a good candle can encourage mindfulness and optimism for the year ahead.
Find this item in-store at Handwork Co-op, 102 West State Street in Downtown Ithaca
Or e-mail us at HandworkOnlineShop@gmail.com to have it shipped right to your home!