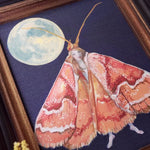 Happy
#WallArtWednesday
Yearning for that enchanting feeling of Halloween and the cozy autumn atmosphere even after the season is over? Keep it going with Elizabeth Andrew's magical "Moth-ers" prints! These stunning ladies are shrouded in delicate moth wings, basking in the ethereal light of the moon.
Available in-store or remote shopping
E-mail us at HandworkOnlineShop@gmail.com to learn more.