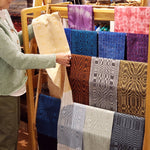 Just in! Beautiful tencel, bamboo and merino wool loom-woven scarves by June Szabo.
Handcrafted in Hector, NY.
June believes that weaving is a never-ending exploration of color and pattern. It builds form by making countless intersections and connections necessary for the existence of the final product. For her, the process represents the interrelated, interdependence of all things in nature and in our own world.