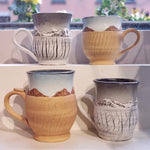 #Mugshotmonday #earthday Feature: Pottery by artist and teacher Len Eichler from Tully NY.
Len's unique pottery work takes inspiration from environmental awareness and activism. His works are functional and some decorative, a three-dimensional commentary on the effects of climate change and loss of natural habitat. His thoughtfully made pieces serve as a daily reminder of what is happening to our planet.
Visit us in person to see Len's collection, or e-mail us at HandworkOnlineShop@gmail.com to purchase from afar.