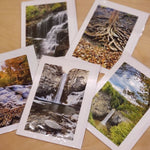 Photography prints and cards of our beautiful region by Jennifer Byrd Rubacky are now available at Handwork!
Jennifer is a local photographer at Heart Wisdom Designs and writer who lives in the village of Trumansburg with her husband, Chris, daughter, Gabriella, and Welsh Corgi, Yeti. She fell in love with photography during her senior year of high school when she took a class in developing black and white film. She has been taking photographs ever since
and is moved by her love of nature and its endless, wondrous beauty.