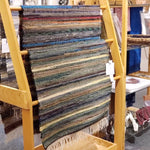 Restocked 💕loom-woven rugs by June Szabo are back!
Lay these woven beauties out on wooden, laminate, or concrete flooring to warm up your space (your feet will thank you!) on chilly mornings. These beautiful rugs are one-of-a-kind. The warp is a cotton/poly blend, and the weft is wool. Each rug measures around 30 by 48 inches.
Available in-store and via e-mail @ HandworkOnlineShop@gmail.com.