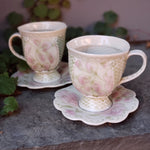 Tea lovers unite! We're rallying for #TeaTime Tuesday, featuring these beautiful and dainty teacups, handmade by Handwork Artisan Stacey Esslinger.
Go ahead, use them for a fancy coffee too! We won't tell
Stacey lives in Corning NY where she creates her detailed porcelain pottery, inspired by dress-making and sewing techniques. Slab construction, buttons, darts, and vintage lace patterns are used to make her functional and charming pottery. Explore Stacey's work on our
website and in-store.