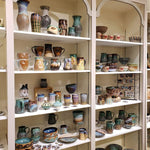 Today is a very special #mugshotmonday ✨ We're welcoming a new member!
We are thrilled to announce Gina Inzinna as the newest potter to join Handwork Co-op! You can now find Gina's beautiful mugs, bowls, platters, jewelry and so much more in our third room. Visit us in person to browse her work, or e-mail us at HandworkOnlineShop@gmail.com to shop from afar.
"From the strong centering force of the potter's wheel to the layered and complex art of glazing, I strive to infuse my
work with passion, joy and gratitude. I take the time to make sure each piece feels good to the touch, functions well for daily use, and is a uniquely beautiful work of art. Myriad techniques are employed from wheel thrown to handbuilt. This includes sculpturally altering forms, carving, marbling, specialized glaze layering, resist work, inlay and hand painting. I create it all in my newly built studio just ten paces from my backdoor, where I ultimately fire to cone 6 in my electric kiln. I am inspired by maximalist atmospheres in homes, gardens, art, fashion, music, and culture; the body positivity movement, anything anthropomorphic, patterns and light in nature and feelings of wonder, interconnectedness and awe."