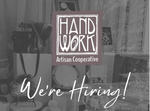 We could use a hand at Handwork!
We're seeking a friendly person who has experience working with the public!
🌟 Must have computer skills, be a quick learner, and have an interest in art and craftwork.
🌟 Temporary position, 10 hours a week - up to 20 hours a week at $15.40
🌟 Flexibility to cover shifts on short notice.
📍If interested, please contact Elly O'Brien at Handworkcoop@gmail.com 
To learn more about Handwork, check out our web site at www.handwork.coop