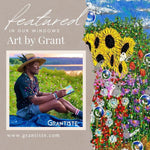 We are thrilled to feature artwork by Grant in our window for the month of May.
We hope you'll stop by @handworkithaca and see Grant's vivid and whimsical paintings in person. In addition to Grant's stunning paintings, we are also featuring his altered clothing, and giclee prints will be available to purchase throughout May.⁠
⁠
Artist Statement: "My name is Grant and I am a self-taught artist. My journey is my art; my paintings my journey. They reflect my travels, adventures,
emotions, and my life. My paintings are colorful, vibrant, infused with their own emotions and mysteries, taking on a⁠
legacy of their own. Initially based in reality, they quickly venture into the fantastical, lyrical, and whimsical nature of my imagination."⁠
⁠
Follow Grant's creative journey on Instagram @grantiste