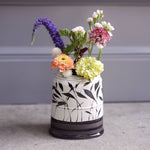 Bring your fresh or dried flower arrangements to the next level in this elegant handmade pottery vase by artist @juliejohnsonpottery
Featuring a unique oval design and matte and gloss glaze finishes - we love the sense of calm it brings!
All of our potter's work is Individually crafted with attention to detail. This ceramic vase has been hand-painted with Julie Johnson's signature style; graceful markings akin to calligraphy brushstrokes.
Tap
to purchase this piece from our web shop
Or, visit us in person to see our large selection of pottery vases and work by Julie Johnson's. We're located at 102 west state street in @downtownithaca
Flowers courtesy of @truleblooms
.
.
.
.
.