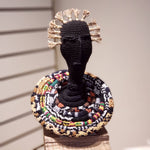 We're featuring the exquisite fiber art of Saundra Goodman @goodmansaundra in our window for the month of October!
For each sale, Saundra is donating 20% to @ithacasouthsidepride. Ithaca's Southside Community Center works to affirm, empower, and foster the development of self-pride among the African American citizens of greater Ithaca.
Stop by Handwork to see Saundra's crochet bags, sculptures, wall art and take a piece of her beautiful work home with you!
.
.
.