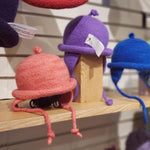 With temps like this
we're thinking of all things cozy and warm. Like these precious hand knit and felted winter baby hats by artist Veronica Guiry. (Tap to shop
)
Using the finest Merino Wool and Kettle Dyed in bright fun colors, these little hats are thick and warm - an essential for chilly upstate New York winters!
Veronica also knits and felts merino wool bucket hats for adults, as well as scarves, cowls, fingerless and full mittens.
.
Find all our winterwear in our Fiber section, 2nd room @handworkithaca
.
.
.
.