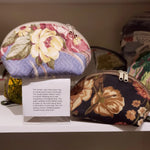 Vintage barkcloth clamshell zipper pouches by @afewgoodbananas. These pouches are fantastic for on the go and as an accoutrements bag to have at home. They feature a durable double zipper, flat base, and side loop so you can clip them to another bag or hang on a hook!
We're in love with the beautiful vintage patterns currently available in store. Swipe to see more
.
Love what you see? Get it before it's gone! The majority of our artists' work is one of a kind, and many items cannot be replicated due to how unique each item is.
Order this piece from afar by e-mailing us at HandworkOnlineShop@gmail.com
.
.
.