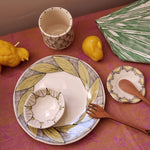 Spring is on its way, time to snack in the sunshine!
Create your own spread with cute plates and pottery by Handwork member Betsy Gram, beeswax candles by A Few Good Bananas, tea towels by Anna Pausch, and Moonspoon wooden utensils. ⁠
Our Artisans have been bringing in beautiful new handcrafted work for the season. ⁠
Tap to shop our Spring collection
⁠
.⁠
.⁠
.⁠
.⁠
⁠