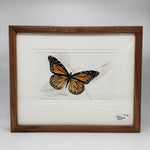 New work by Caroline Spellman
Come see what's new at Handwork!
Our artists have been restocking our shelves with beautiful new things.
Caroline Spellman's wall is freshly stocked with quilled wildlife portraits that make wonderful gifts.
-
Come on in and shop safely!
We require masks for entry, are disinfecting frequently used surfaces, have limited customer capacity and plenty of hand sanitizer around the store.
-
We're now also open Sundays & Mondays.
Our current hours of operation are...
Thursdays 10am-2pm
Fridays 10am-6pm
Saturdays 11am-5pm
Sundays 11am-5pm
Mondays 10am-2pm
.
.
.
.