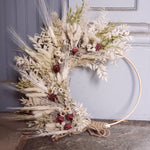 #Falliscoming 🍂 We love the elegant new floral designs from Artisan Carol Howell!
Carol's wreaths begin with flowers grown on her Lansing NY farm, which are then harvested, dried, and arranged by hand.
This unique hoop wreath is one of Carol's latest works, available in our brick-and-mortar shop. Celebrating a muted color palette with pops of burgundy, it will add an earthy and cozy vibe to any room.