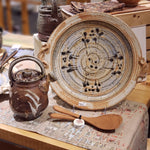 Our latest arrangement at Handwork celebrates the #AutumnTable
With stunning pottery by John Jessiman, and earthy table runners and napkins by Laura Hogan. Both artists create beautiful and intriguing work that will compliment your dinner table and make wonderful conversational pieces.
John Jessiman is the founder of Cub Creek Foundation for Ceramic Arts which hosts residency programs, collaborative networking, workshops and more for emerging ceramic artists.