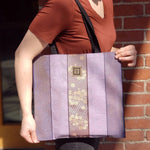 NEW
Spring ShimaShima bags are now @handworkithaca & available in these pretty colors - we can't decide on our favorite!
These totebags are as hardworking as they are beautiful - perfect for carrying groceries, books and running errands.
@shimashimabags are crafted one by one in the Finger Lakes, from a special, super durable material woven in Japan
See them in person at our shop! We're open Monday-Saturday 10am to 6pm, Sundays 11am to 5pm in @downtownithaca
.
.
.