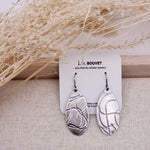 The sweetest day is right around the corner!
 Shop Handwork Artisan crafted jewelry for Valentine's Day
Our online store is brimming with beautiful one-of-a-kind pieces for your favorite people.
Tap to shop!
These handcrafted abstract teardrop earrings by @lisebouvet are made of 100% recycled sterling silver. They feature a unique, organic impression in the metal, and are oxydized to show off the beautiful contrast! Perfect for everyday wear or a special evening.
.
.
.
.