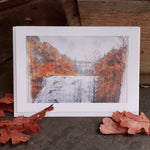 Watching the seasons change and getting sentimental?
Send your loved ones a seasonal greeting with one of Bill Mowson's watercolor cards! Available in-store @handworkithaca - Scenes of Taughannock Falls, Lick Brook, Ithaca Falls, and Buttermilk are among our favorites of Bill's work.⁠
⁠
He paints in vivid color our region's most iconic landscapes. All of Bill's watercolor card images are also available as large, high-quality giclee prints and canvas wraps at our store.⁠
⁠
Browse Bill's watercolor art and bring home a piece of Finger Lakes magic! Handwork is open till 6pm today in downtown Ithaca.⁠
.⁠
.⁠
.⁠
.⁠
.⁠
.⁠