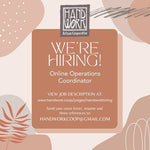 🌟 Join the Handwork Cooperative Team! 🌟
We're on the lookout for a creative and organized Online Operations Coordinator to help us manage and expand our vibrant online store.
You'll be creating product listings, taking product photography, assisting customers, and completing online and phone orders. If you're a multitasking wizard with an eye for detail and a love for art, this role is perfect for you!
- Hours for this position are 20-25 hours per week, 40-50 bi-weekly
- Compensation starts at $17 per hour.
- Must be available to work flexible hours and days, including weekends and holidays as needed.
- Must be able to climb steep stairs frequently during a shift; some lifting is required.
We look forward to hearing from you!