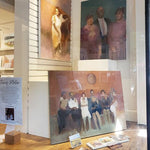 We have a lot of new beautiful art to share with you this month
Our second new window display features paintings by Ithaca Artist Terry Plater. Be sure to pause and take a look at Terry's emotive work next time you stroll past our windows in @downtownithaca. Notecards and bookmarks of Terry's paintings can be purchased at Handwork Co-op year around.
From the Artist:
"I
am an American painter whose work -- whether figure, portrait, or landscape -- speaks to singular stories as well as shared histories. I am a black American artist who, working from observation and first-hand experience whenever possible, is drawn to subjects that are defined by questions of equity as well as ideas of beauty. My work positions itself to have both explanatory value and emotional power -- positions itself to, in the words of the late Bayard Rustin, speak truth to power."
- Terry Plater